The autumn of the year 2018 will come under the sign of languages!
In September, the first ever international language festival in Slovakia will be held in Bratislava, named LingvaFest' 2018, and you definitely have to participate!
The main aims of this diverse two-day long event with expected participation of several thousands of people are:
to present various foreign languages and cultures,
to deepen people's interest in foreign languages,
to motivate to learn foreign languages,
to present effective ways of teaching, new methods, applications,
to provide space for further cooperation between various institutions and people directly working on languages.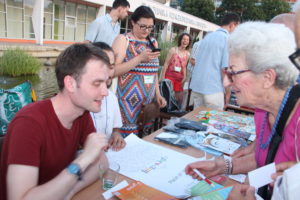 WHEN: 28-29 September, 2018.
WHERE: University of Economics in Bratislava.
WHY? LingvaFest' aims to be an event "about, with and for languages". This is a place to get to know foreign languages and cultures related to them.

Languages and communication concern us all, therefore the language festival is open to everyone. And let's not forget to mention: you can come and experience the whole event totally free of charge!