Cultural programme
Suvereno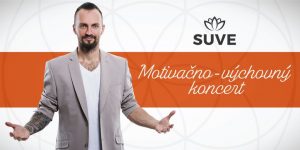 Suvereno, a conscious hip hop artist, is coming this time with a motivational and educational concert for pupils and students. His lyrics address social topics, personal development, philosophy, spirituality with an emphasis on motivation, inspiration and lifting the human spirit. His performances follow a main theme and are enriched by pieces relating to the chosen topic. Spoken word, musical pieces, interaction with the pupils and contests. He also give space to young talents. We invite you to this musical and educational experience!
Zdeněk Hladík and Andrea Tkáčová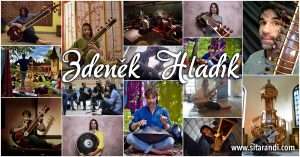 Musical conversations of ethnic instruments from the whole world that always find harmony, regardless of cultural, religious, geographical or musicological differences. Sitar, fujara, hang drum, theremin and many other instruments.
Zdeněk Hladík – učil i studoval hudbu v Evropě, Austrálii a v Indii. Prošel celou řadou žánrů, od prvních kroků ve folku přes klasickou hudbu, country, jazz, rock, pop až zpět k základním kořenům hudby. Nyní se věnuje hudbě východních směrů. Je jedním z mála evropských sitáristů a s tímto nástrojem koncertuje. Spolupracuje s mnoha organizacemi jako muzikant, učitel i muzikoterapeut.
Andrea Tkáčová – Hudba pre mňa predstavuje svet totálneho zvnútornenia sa a zároveň prepojenia s prostredím, kde sa práve nachádzam. Autentickú zvukovú výpoveď prinášam vďaka husliam, tibetským miskám, perkusiám a hlasu. Zručnosti zachádzania s týmito nástrojmi spolu s otvorenou mysľou a srdcom ma privádzajú vždy znova k hravému dialógu so sebou. A v súznení so spoluhráčmi radi odkrývame hĺbku ľudského zrodenia.
Shivanata Group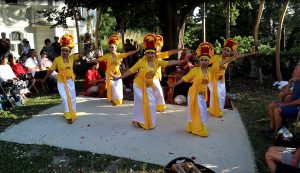 We would love to perform some traditional Indonesian dances. We have a group of Indonesian dancers which practices Indonesian dances regularly and would be nice if we could show other people how beautiful Indonesian dance is. We will dance with beautiful costumes that show our culture.I am Indonesian, living in Bratislava for over 6 years. We have a dancer group that often performs in cultural events. Our purpose is to promote the beautiful culture of our country that we love and are proud of.
Ulyana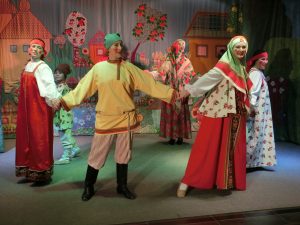 During the performance of the vocal ensemble "Ulyana", you will hear songs in various languages (Russian, Slovak, Ukrainian, Polish, Georgian, Italian and more). The performance will be a cappella.
Our band, "Ulyana", is a women vocal ensemble that sings a cappella in various languages. All members of the ensemble are a family. We are from Saint Petersburg. There, our family created a theatre and we worked there for 13 years. Since June 2019, we have been living in Bratislava, where we created the theatre OMNIBUS, which will begin performances in autumn this year.
EVA Band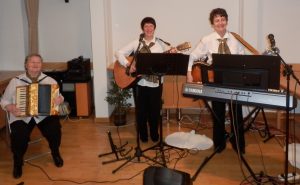 Aktuálne sme trojčlenná dámska hudobná skupina z Bratislavy so širokým spektrom hudobných žánrov od ľudových piesní cez evergreeny, staršie hity, oldies, country, zahraničné skladby (české, poľské, ruské, španielské, mexické, portugalské, chorvátske, talianske, maďarské, rómske a ďaľšie), aktuálne aj piesne v esperante. Od nášho vzniku v roku 2006 máme za sebou veľký počet vystúpení na domácej i zahraničnej scéne, účinkovanie v televízii a vydanie CD-čka.
Obsadenie hudobnej skupiny EVA band:
EVA Hanzelyová – klávesy, gitara, spev a kapelníčka v jednej osobe;
JANA Bojtošová – akordeón, mandolína, ozembuch, spev;
MÁRIA Minichová – gitara, spev, perkusie.
Child choir from the Ukrainian language school
The child choir from the Ukrainian language school will perform an interesting program where they will sing in Ukrainian and show you traditional clothing. The Ukrainian school in Bratislava was founded more than 20 years ago. The program includes songs and tales in Ukrainian.